Cody Calf is a little calf who is good friends with Marshal Moo Montana and his posse, and also a honorary deputy altought sometimes gets into trouble with outlaws.
It's hinted that is in some point related to Miss Lily Bovine and lives with her, but he's not her son. Like every one else in town, he refers to her as "Miss Lily".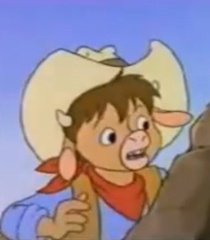 Ad blocker interference detected!
Wikia is a free-to-use site that makes money from advertising. We have a modified experience for viewers using ad blockers

Wikia is not accessible if you've made further modifications. Remove the custom ad blocker rule(s) and the page will load as expected.