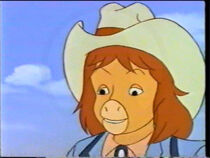 Cowlamity Kate Cudster is the tomboyishly beautiful rancher and operator of the highly profitable Golden Cud Mine. She's as hard-working and hard-riding as any steer and has enough skill to put Cowlorado to shame. She returns Dakota's romantic feelings; she gave him his signature hat and nearly tied the knot in Wedding Bull Blues. Her name is a play on the famous Wild West heroine, Calamity Jane.
Ad blocker interference detected!
Wikia is a free-to-use site that makes money from advertising. We have a modified experience for viewers using ad blockers

Wikia is not accessible if you've made further modifications. Remove the custom ad blocker rule(s) and the page will load as expected.