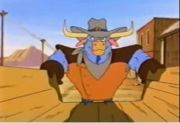 Dakota Dude is one of the protagonists of the series and the powerhouse of Marshal Moo Montana's posse.
He's the strongest bull in Cowtown (able to lift a rock with only a bare hand) and has a very cool temper that is rare for him to loose, even in a desperate situation.
His main love interest is the tomboyishly beautiful Cowlamity Kate Cudster and the love is mutual.
Voiced by Jim Cummings.
External Links
Edit
Ad blocker interference detected!
Wikia is a free-to-use site that makes money from advertising. We have a modified experience for viewers using ad blockers

Wikia is not accessible if you've made further modifications. Remove the custom ad blocker rule(s) and the page will load as expected.